Project OverviewGroupB02: Geology (Area number: JP16H06476)
Study on Geological Perspectives, Frictional and Hydrological Properties of Slow EarthquakesLeader: Kohtaro UJIIE, Graduate School of Life and Environmental Sciences, University of Tsukuba
B02
Purpose of the Research Project
Crustal movements/seismic observation network has revealed that slow earthquakes occurred along plate subducting zones. However, materials causing slow earthquakes and mechanism of low-speed deformation have not been identified. Frictional and hydrological properties controlling slow earthquakes behavior have not been determined. Group B02 plans to clarify geological perspectives of slow earthquakes based on geological surveys of accretionary prisms/metamorphic rocks exhumed from the depths where slow earthquakes occurred and deep ocean drillings into the slow slip area. We also plan to examine frictional and hydrological properties in a wide range of slip rates from the plate convergence rate to seismic slip rates using geological samples obtained from the field and ocean drilling. Our goal is to bring unified understanding on seismic phenomena from low-speed deformation to high-speed slips by integrating the outcomes of geological surveys, deep ocean drilling and friction/permeability experiments with outcomes of other research projects.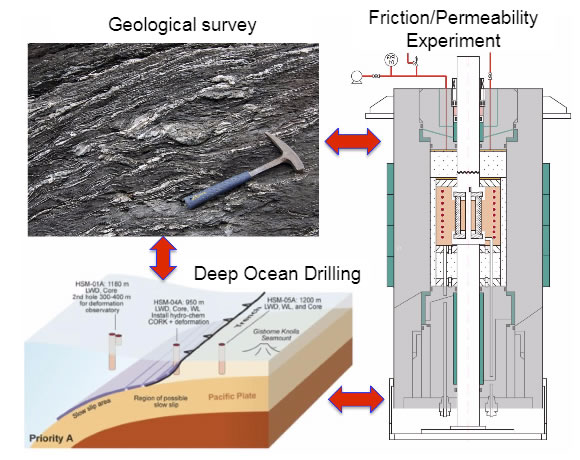 Details of the Research
2 bases of the research are; A) Geological surveys/deep ocean drilling into the slow slip area, B) Friction/permeability experiments. We will proceed our research closely coordinating A) and B).
A) Geological Surveys/Deep Ocean Drilling into the Slow Slip Area

We will conduct geological surveys in the Shimanto accretionary prism and the Sambagawa/Nagasaki metamorphic rocks formed at shallow and deep subducting zones, respectively. We will also join onboard deep ocean drilling into the slow slip area planned in the offshore of Hikurangi, New Zealand. Based on analyses of the geological samples taken from the field and ocean drilling, we will reveal the materials, deformation features, and deformation mechanisms responsible for slow earthquakes.

B) Friction/Permeability Experiments

Using the geological samples collected in A), we plan to conduct friction/permeability experiments to determine frictional/hydrological properties in a wide range of slip rates and pore fluid pressure. Comparing samples after experiments with natural ones collected in A), we will reveal factors controlling the slow deformation and the high-speed slip.

C) Collaborative Research with other Research Groups

We will integrate perspectives of slow earthquakes obtained from seismic/geodetic observations and geophysical surveys by Groups A01, A02 and B01 with the ones gained from geological observations by our research group and exchange feedbacks among the groups to foster better understanding of slow earthquakes. We will contribute to construct a model which explains low-speed deformation and high-speed slip by providing experiment data to Group C01. We will also contribute to construct a mathematical model based on physical objects by providing geological information to Group C02.
Members
Project Leader

UJIIE, Kohtaro

Graduate School of Life and Environmental Sciences, University of Tsukuba
Co-investigators

KATAYAMA, Ikuo

Graduate School of Science, Hiroshima University

MORI, Yasushi

Natural History, Kitakyushu Museum of Natural History & Human History

WALLIS, Simon

Graduate School of Science, The University of Tokyo

HASHIMOTO, Yoshitaka

Research and Education Faculty, Natural Sciences Cluster, Sciences Unit, Kochi University

TANIKAWA, Wataru

Kochi Institute for Core Sample Research, Japan Agency for Marine-Earth Science and Technology

TSUTSUMI, Akito

Graduate School of Science, Kyoto University
Research Collaborators

HIROSE, Takehiro

Kochi Institute for Core Sample Research, Japan Agency for Marine-Earth Science and Technology

KANAGAWA, Kyuichi

Graduate School of Science, Chiba University

YAMADA, Yasuhiro

Research and Development Center for Ocean Drilling Science, Japan Agency for Marine-Earth Science and Technology

SAISHU, Hanae

Renewable Energy Research Center, National Institute of Advanced Industrial Science and Technology

HAMADA, Yohei

Kochi Institute for Core Sample Research, Japan Agency for Marine-Earth Science and Technology

YAMAGUCHI, Asuka

Atomosphere and Ocean Research Institute, The University of Tokyo

OTSUBO, Makoto

Geological Survey of Japan, National Institute of Advanced Industrial Science and Technology

NISHIYAMA, Naoki

Graduate School of Life and Environmental Sciences, University of Tsukuba

OHTA, Kazuaki

Disaster Prevention Research Institute, Kyoto University

ITO, Yoshihiro

Disaster Prevention Research Institute, Kyoto University

ASADA, Miho

Geological Survey of Japan, National Institute of Advanced Industrial Science and Technology
Group Research Subthemes
Co-investigater's Subjects

UJIIE, Kohtaro

To be updated

HASHIMOTO, Yoshitaka

To be updated

WALLIS, Simon

To be updated

MORI, Yasushi, UJIIE, Kohtaro

Fluid flow and silica transport toward the source area of deep slow earthquakes

KATAYAMA, Ikuo, OKAZAKI, Keishi

Experimental study of deep slow earthquakes

TSUTSUMI, Akito

Frictional properties of subduction-zone material at shallow depth conditions

TANIKAWA, Wataru

To be updated